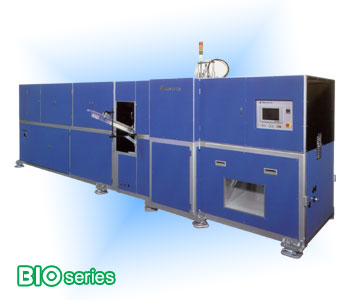 2- Stage Stretch Blow Molding Machine
The BIO series of high quality stretch blow molding machines are commercialized by Frontier, Inc. which is a leading supplier of linear type stretch blow molding machines, in addition to the existing EFB series.
Features
The output is more than 1,200BPH / 1L / 1 cavity, which is an outstanding figure for a linear type machine.
Mold changeover is made simple by removing a set of the molds. It will take only 30 minutes for the work. The molds can be slid in along the guide and each half is fixed with two bolts. Therefore this machine could be suited to small/middle sized production for a wide variety of products.
Preforms are continuously rotating in the reheat ovens allocated along a round track and there is a heat equalization zone before the blow station. Two different kinds of thermal setting up can be done for raising temperature initially and conditioning preforms as a next step in the ovens. Since it has a longer reheat zone by 30 ~ 50% than competitors', it is suitable not only for PET but also for PP, PEN and etc.
The distance between preform mandrels widens right before the blow station and preforms go into the blow station to be blown in multiple blow molds. A complex of rotary and linear motions brings in stable production and high quality of products on each cavity.
Balanced drive functions, which do not create any unbalanced loading, are introduced for the blow clamping, preform charge and bottle discharge stations. These functions result in an advanced mechanism, which runs quite fast, but smoothly with low maintenance work.
This series does not use any hydraulics aiming at cleanness and less energy consumption. Total wattage of the driving motors is 0.8kw (excluding discharge conveyer and blowers), which is an outstanding low figure and moreover reciprocating motions of air cylinders are utilized economically to run the machines.
The dry cycle time is only 1.3 seconds excluding blowing time. Since a linear mechanism is introduced basically, the dry cycle is unchanged even if a certain blowing time is prolonged. Therefore the productivity becomes better than that of rotary type blow molding machines by more than 20% in case of hot fillable bottle production, which needs a longer blowing time generally.

Click here to open a short movie
Capability of each Model of the BIO Series
| | |
| --- | --- |
| | Up to 3 liter sized bottles with a 2-cavity mold. The BIO-F2 is a new 2-cavity blow-molding machine. It has rotary type reheat ovens to reheat preforms continuously and has a space between the primary and secondary reheat zones for annealing preforms. The blow station introduces a linear type, which is well proven on the EFB2000 machine. It does not use any hydraulics and introduces well weight-balanced mechanism for each station enabling it to run at high speed. |
| | Up to 1 liter sized bottles with a 4-cavity mold. (Exhibiting in IPF'99.) The BIO-F4 is capable of producing 4,800 containers per hour for up to 1 liter-sized bottles with a 4-cavity mold. Preforms run through 5 reheat ovens rotating continuously with a 63.5-mm pitch, then reach the blow station. The pitch widens to 100 mm before the blow station and this pitch change device was developed especially for BIO series. This runs as a 2-cavity machine optionally. A blow mold can be changed to another in 30~50 minutes in average on the machine. |
| | Up to 2 liter sized bottles with a 4-cavity mold. Upon receipt of demand from the beverage market, the BIO-F4L was developed to produce 2 liter square mineral water bottles with 4-cavity mold. The blow pitch widens to 140 mm instead of 100 mm which is introduced for a BIO-F4 machine. The BIO-F4L has 5 reheat ovens and each oven has 7 quartz heaters enabling a choice of broad molding parameters. |
| | Up to 0.5 liter sized bottles with a 6-cavity mold. The BIO-F6 is capable of producing 120 0.5-liter bottles per minute. This is the largest model in the BIO series specializing in production of smaller containers than 0.5 liter. Also, the BIO-F6H can be offered for hot fillable containers with capability to produce 50 to 60 0.5-liter bottles per minute. This has a similar rotary reheat system to the other BIO models and each preform has 122 seconds reheat time at the rate of 50 bottles per minute production and the time is longest when compared to other similar blow molding machines. |
| BIO-F6 | Up to 0.5 liter sized hot fillable bottles with a 6-cavity mold. |
| BIO-F6L | Up to 2.5 liter sized bottles with a 6-cavity mold.6000Bottle/Hour |
| | Up to 1.0 liter sized bottles with a 6-cavity mold.7200Bottle/Hour |
| | Up to 0.25 liter sized bottles with a 8-cavity mold. |
| | Up to 0.2 liter sized bottles with a 12-cavity mold. |
Process
1) Preform In-feed
Preforms are continuously fed from a preform unscrambler along a guide rail and separated one by one automatically, and then preforms sit on preform carriers.
2) Preform Heating
Preforms running through heating zones continuously rotate with preform carriers and halogen quartz heaters set at the proper temperature for blowing heat these up. During this process, remaining stress on preforms created by injection molding can be eliminated completely. Temperatures of preforms are measured with an infrared thermometer right before the blowing process, and if the temperatures are correct, blow molding starts.
3) Blow Molding
Hot preforms are transferred to a blow station, and then the blow mold closes and momentarily blow cores rise, stretch rod rise and air is blown into bottles. Normally 35 - 40 kg/cm2 air pressure is used and this high pressure ensures very stable production and high quality of products. After blowing, the blow mold opens and the bottle moves toward an eject station.
4) Bottle Discharge
Bottles transferred to the eject station come off from carriers in a discharge system and rotate 180 degrees to be discharged.