FFB Series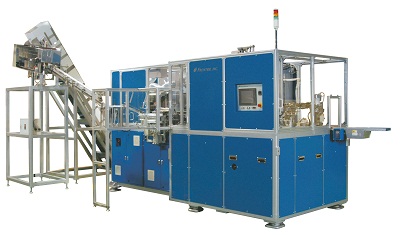 Summary
This is a new model,Whichis the 4th generation for us.Preforms rotate continuously on the heating rotary truck bringing better efficiency and quality in bottles.
In case of FFB-4L preforms are fed through the rotary mechanism and sit on the blow cores firmly with their necks toppling down finally.
The both models utilize servo motors for the main mechanisms resulting in high speed and saving energy and introduce a screw to widen the blow core pitch right before the blow clamping process ensuring a smooth and precise pitch change.
The blow clamping has a unique seesaw type mechanism driven by a servo motor and it brings a very smooth clamping.
These new ideas could improve the output by 30% accordingly.
Appeal points:
Saving the floor space by 30%.
Existing blow cores for the existing BIO series can be interchangeable on the FFB series.
The blow cores return to the preform feed truck from the bottle eject station without toppling down by rotating 180 degrees with an index motor.
Almost all functions are driven by either servo of index motors.Servo motor driving can be selected as an option for the stretching station.
Air recycle system is introduced.Therefore low pressure air for operation is created through the system.
At the eject station,bottles stand on the belt conveyor bringing convenience on the subsequent bottle conveying process.
FFB-2L
Model
FFB-2S
FFB-2L

FFB-4L

FFB-6
Type
Liner
Driving method
Electric
+ Com.Air
Number of blow mold
2
4
6
Bottle/Hour(Max.)
2000
4800
7200
Max.product volume
2700ml
5000ml
2500ml
1000ml
Max. Inlet Outer Dia.
39mm
34mm
Max. Product Outer Dia.
120mm
160mm
125mm
85mm
Max. Product Height
310mm
370mm
315mm
270mm
Number of Mandrel
90
114
168
Number of
heating zone
3
4
6
Heater spec.
3.5kw x 3
2.0kw x 18
3.5kw x 3
2.0kw x 27
3.5kw x 2
2.0kw x 26
3.5kw x 3
2.0kw x 27
Driving power supply
200/220v
Total Power
54.0kw
72.0kw
64.8kw
70.3
Control display
LED
touch panel
Air pressure required
4.0MPa
Chilled Water10C
20L/min
90L/min
130L/min
Tower Water25C
20L/min
Machine Size
(LxWxH)(m)
4.1
x1.82
x 2.1
4.1
x1.82
x 2.3
5.8
x2.0
x2.33
6.7
x2.0
x2.33
Machine Weight
6.8ton
7.0ton
9.5ton
10.5ton
FFB-4
FFB-6S